What is a bondage?.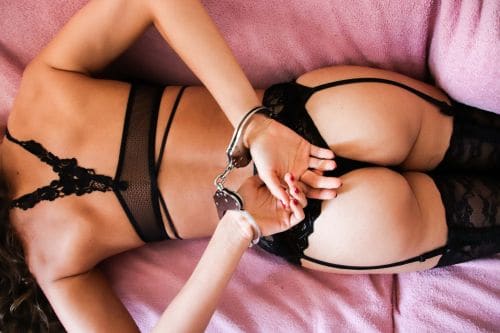 The combination of the words "happy", "excited" and "tied hand and foot" in one sentence will seem strange to many. Are there really those who sleep and sees how his body is tied with a rope or handcuffs put on their hands. Yes, these people do not like the state of subordination, it incredibly excites them and gives a sense of ecstasy.
Bondage is an amazing type of sexual practice in the bedroom related to BDSM culture. It also includes: discipline, dominance and submission, sadism and masochism. You can focus on one thing or combine them among yourself.
In this article, we will consider in detail the bondage – how to try it, how it attracts people and what accessories are needed.
What is this practice?
Bondage – This is a limitation of the mobility of one of the partners during a thematic session. For this, various accessories can be used: handcuffs or cuffs, spacers, ropes, ribbons, fixation sets, special furniture and suspension systems.
English sexologist. Ellis believes that any physical and psychological restraint of motor and emotional activity in people is associated with vivid sexual excitement. This is an opportunity to survive a new and very intimate adventure with another person.
What is this practice attractive?
There are several reasons why a person likes to be related, and each will vary.
Exchange of power. Some are satisfied with the opportunity to obtain complete control over a bound person, while others experience bliss when they are completely controlled.
Physical sensations. Some people noted that when they are connected, this feeling resembles a close intimacy similar to a hug, a sense of safety arises. Others just like how the rope is felt on their skin.
Aesthetics. There are many different ways to practice in tying nodes, and many are attracted by the type of interestingly fixed rope on the body. Someone enjoys the time and skills that were needed to create these nodes.
Role-playing game. This is a way for adults to avoid routine of everyday life and to realize their secret fantasies in reality, and it is also an opportunity to get rid of guilt and just play the role that he was taken away.
Bondage security rules
The use of holding devices in the bedroom is great, but there are several rules that need to be followed so that each of the participants enjoys and does not suffer.
Talk in advance and discuss in detail the session, get consent and agree on a safe word.
Stop immediately if the associated partner says a stop-word or shows a conditional gesture.
Follow common sense and stop if the bottom shows signs of discomfort or pain, and traces, bruises began to appear on its skin.
Keep scissors at hand to quickly cut a rope or tape, do not remove the keys to the handcuffs far from.
Do not leave the attached submissive unattended, you should always be there to free your partner if something went wrong.
Never bind someone so that it interferes with your breath.
Do not hold the bottom in the same position for a long time. Bondage time should not exceed 60 minutes, and for beginners – 30 minutes.
There should be no pressure on the veins, joints or nerves. The main idea is to restrain. This should not be inconvenient (if there is no other agreement). Make sure you leave a gap of two fingers between the rope and the body. The restriction should be dense, but not interfere with blood circulation.
Bondage
Know your limits
You are delighted with handcuffs, but against the rope? Would you like to use sex toys additionally or not? Will there be penetration and what (vaginal or anal)? Whatever your desires, each participant: both dominant and humble, should tell about his limits: soft – where he is ready to give in, or tough – which is never permissible.
Do not hurry
Most of the practice is sensory deprivation, and the resulting experiences can be very intense. Therefore, it is recommended to control the level of force in accordance with the sensations of the lower partner.
If at first to act hastily, this can lead to the fact that you will not get as much pleasure from experience as you could. Slow and gradual tearing, as well as enjoyment, sensations are one of the main attractive moments of Bondage. Make sure you are allocating enough time to miss nothing.
Respect and trust
A typical bondage session consists of two participants – the upper and lower.
The upper one is a dominant partner, one who provokes and takes control of the session. Nizhny – an obedient participant, and, as a rule, accepts everything that does the upper. Regardless of the selected role, the ability to completely trust another person at any time is important for successful practice, since he is going to tie you or allow you to tie himself.
Binding implies research, not humiliation. This is something completely different, and in order for two people to enjoy it, both of you must remain true to the topic, which makes this experience much more exciting. In this case, you need to not only talk about the boundaries and stop words, but also use them if necessary.
Subsequent care
Any practice of BDSM can be very tiring both physically and psychologically. Subsequent care is the time required for partners to take care of each other's needs and "return to reality".
Can be divided into two types:
Physical: Remove handcuffs, ropes, apply cream from irritation, give water or sweet tea, cover with a blanket, kiss, etc. D.
Emotional – In this case, the important part is the discussion of the session that you survived together: to discuss feelings, wishes, support or console.
That you can not use for a bondage
There are several things that are forbidden to use in this practice, no matter how tempting they may not look:
Normal adhesive tape It seems a classic remedy for holding, but this is not the best option for human skin. This is an industrial glue that, when removing, causes unpleasant "stinging" sensations and pain from depilation.
For a bondage garden ropes, household or sports – They are very rude and leave burns on the body when using. Choose special bonding ropes (soft, but durable), sold only in a sex shop or from special masters.
Types of holding accessories
Before proceeding with practice, carefully study the types of devices for fixing. It is better to choose some of them to those who are just starting to study the world of BDSM, others are more complex and suit more experienced participants. If you do not know if you will like the bondage and whether you will explore it further, take a regular belt for a dressing gown or a tie to bind the arms or legs of a partner, the main thing is to remember about safety.
When choosing locks, take into account their size. Many of them have adjustable inserts, for example, on Velcro, which are tightened and weaken as necessary. Conventional handcuffs have several recesses for fixing the wrists, but for some they can still remain too large or small in girth.
Handcuffs
This accessory helps to get acquainted with the world of BDSM. There are many different handcuff options: metal, with fur trim, fabric, leather, etc. D. They are ideal for fixing the wrists and ankles with each other. Handcuffs can limit the mobility of the partner's hands in front or behind the back, chained it with one part to the leg of the table.
It is quite difficult to use them alone on your hands. Therefore, if you first want to try the bondage solo, it will be better to put on handcuffs on the ankles. So you will understand whether you like these sensations, and your hands will remain free to stimulate erogenous zones on the body.
Spacers
They are chosen by more advanced players in the bondage for complete control and submission, because spread legs open unhindered access to the most intimate places of the submissive.
Rope
This is another classic option to limit the arms, legs or body of the lower. It is specially designed to be soft for the skin. You can use the rope in a variety of ways. There is even a whole Japanese art of binding Shibari, which includes many types of fixation.
Bonding tape
Tapes are mainly made of PVC, do not have glue, so they are not glued to the skin or hair. Used for fixing or closing the mouth of a submissive. But they should be used with caution so as not to twist the tape on the body and not prevent blood circulation.
Great for role-playing games according to the "hostage-codium" type, where the captured partner should do everything possible to release.
Cickle sets
They help to fix a partner on the bed or doors, or hold the partner's limbs, connecting them to the collar on the neck or among themselves using a tape (ropes, chains).
Collar
Makes it out of the person who wears him, a slave or a "pet", whose freedom of movement and action is completely dependent on the will and desire of the owner.
Shackles, chores
Easy to use and provide reliable fixation of the ankles with each other using a chain or tape.
Bondage and sex toys
Vibrators are wonderful for expanding borders in practice. For example, Vibration masses Large enough to tie them to the partner's body, and their wide head and powerful vibration will effectively stimulate the erogenous zone, even if they move a little.
Vibropuli can be used to control orgasm. To do this, the dominant uses the device on the genitals of the related partner until it approaches the orgasm, and then stops and continues after some time again. You can do this several times until the upper one decides that the bottom has earned an orgasm.
In addition to vibrating sex toys, you can use any that your partner will agree to:
anal (traffic jams, balls);
Masturbators;
Vacuum-wave stimulants;
Falloimitators;
Strapons and t. D.
Bondage is an interesting practice that allows you to get several types of pleasure at once – aesthetic, sexy, sensory. This is a fascinating way to look at your relationship from a new side and survive an incredible sexual adventure with a partner.