"Walk on thin ice" or extreme practices.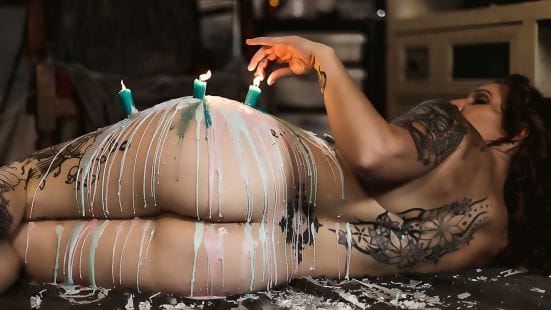 Certain types of practices in BDSM can lead to a potentially higher chance to get injured.
Game on the edge, as the name, is risky. It is carried out, following the principles of BDSM – security, sanity and agreement, but with this practice you need to go to the risk or RACK (Risk AWARE CONSENSUAL KINK). This is deciphered as the principle of constructing sadomasochist relationships or "perversion on a voluntary basis for your own peril and risk". It is necessary to act with more accuracy, take care of security and think through possible unforeseen circumstances, as well as prepare a first -aid kit and be able to provide first aid if it is required.
Safety rules for any games on the verge:
They should always be carried out in a sober mind! It is forbidden to use any narcotic drugs and alcohol!
In addition to the theoretical study of the foundations, it is necessary to obtain practical skills under the guidance of an experienced mentor.
Subsequent departure is required: discussion of what happened over a cup of tea, skin care, hugs.
What is Edge Play?
The game on the verge is very subjective in relation to its participants, but usually it includes some extreme handling of a body or mind. You can decide for yourself what is beyond. Some believe that suffocation is extreme, and for others there will be a strong flogging. And this is the beauty of Edge Play.
Erotic strangulation
Breathing game (erotic asphyxia), in which the dominant limits the breath of the humble partner during intercourse. If you indulge in a solo session, this is called autoerical asphyxiation.
For this, deaf masks, hoods, or even bags are used. Also, breathing can overlap when the upper one is seated on the face of the lower (Feissisting). Another extreme option is the suspension and wearing of corsets.
Why do people practice breathing game? In addition to the psychological attractiveness of acute sensations, there is a physiological explanation. When oxygen intake is limited, the brain produces hormones (adrenaline and endorphins). This natural reaction enhances sexual arousal. A feeling of light dizziness caused by breathing impairment can also involve such a game.
Do not forget about the side of dominance-subordination, when one person literally controls how much the other will breathe. And the submissive likes the feeling that his breath is in the power of the dominant.
Precautionary measures. This type of game is associated with a very great risk to life, and if it cannot be done safely, then it simply should not be done:
Remember the risks: oxygen starvation is dangerous for the brain, can lead to cardiac arrest. Physical pressure (tightening a corset, mask or hood) harms the spine and larynx.
Since the submissive is deprived of the opportunity to speak, it is very important to agree on a safe sign or gesture. The dominant partner should be highly developed self -control – you can not ignore signals even for one second.
Before starting practice, make sure that there is no health problems, asthma or allergies.
Playing with fire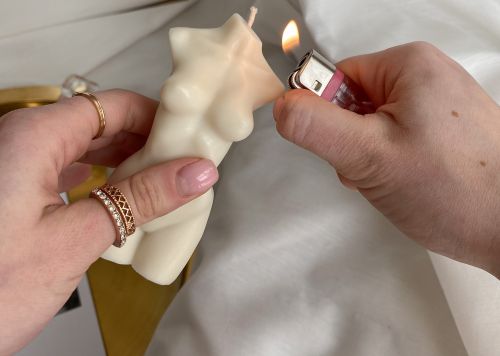 Primitive, powerful, elegant and beautiful fire always attracted a person. It is natural that someone has a flame arousal.
Fire Play is a withdrawal of a temperature game (cooling or heating sex toys before use) to a new level. Now you do not just light fire and admire it, but bring the flame very close to the skin. This can be compared with "walking on the rope": a thin line between an intense feeling and a real burn.
What is needed for practice? Usually use 70% isopropyl alcohol and torch (a wand with absorbent material). The torch is set fire and carried out by fire, barely touching the skin of the submissive.
With increasing experience, many use burning gloves, floggers or lashes. Both the upper and lower before the start of practice, it is necessary to take convenient positions.
For practice, prepare the equipment (hold it on a separate table) and the room (there should not be extra things in it). Do not do it on the floor or bed, it is best to place the bottom on the massage table. Participants should take a convenient position. In addition, the presence of a third person is necessary – an observer, a more experienced person who will control what is happening.
Precautionary measures:
Never try to play with fire if you do not know how to do it safely and efficiently! Before starting, be sure to undergo training with an experienced master!
In any type of fire game, you should have a means of extinguishing fire nearby!
Follow the fuel, remove it as far from the fire as possible. If alcohol hit the skin, wipe it, and then continue!
Submissive is better to be in a horizontal position, since if the fire enters the body, then it will rise up.
Prepare skin processing tools: cold compresses, burns, patch, bandages, disinfectant napkins.
If you want to try less dangerous options, there is a game with wax (Wax Play) or Capping (erotic jars – are attached to the skin with fuel).
The game with wax
This is a type of temperature game in which wax from a candle drips to a person's naked skin to cause a slight burning. It is considered one of the safest among the types of playing on the verge, but with the wrong conduct, quite serious burns that require medical care can cause sufficiently.
For practice, special candles are used-soy and paraffin, which melt at a temperature of about 46-57 degrees Celsius.
It is necessary to check the sensitivity of the skin of the partner. It depends on many conditions: the state of health, the part of the body to which the wax is dripping, an individual reaction. Keep the candle horizontally, first, from a height of 30-40 cm, drip a few drops of wax on the inside of the hand. If the sensations are pleasant, then gradually reduce the height (remember that the lower, the hotter the wax). If the burning sensation is unbearable, blisters appear or an allergic reaction begins, the game must be stopped.
Where to drip? The best places are the chest, shoulders, hips, buttocks and face (but not on the eyes).
The sensations will be brighter, and Wax Play is safer if you make a light massage with before practice massage oil – This will not only warm up, but also protect the skin. Nearby you can put a cooling bag or ice to cool the skin, if the wax on it seemed too hot (by the way, the alternation of ice and wax is very pleasant).Precautionary measures:
It is forbidden to use household candles, church, wax, gel. Their melting temperature is much higher, and if the wax can cause severe burns if it enters the skin. And also use candles with various additives to avoid an allergic reaction.
It is necessary to avoid waxing on the eyes, hair.
Remember the rules of fire safety!
In fact, there is no region in the world of BDSM, since people enjoy all types of erotic actions. But in certain types of practices there is an additional level of risk. And it is dangerous not to understand and not accept them, regardless of your role – dominant or submissive.
Therefore, if these or any other "games on the edge" seem interesting to you, continue to explore. Just proceed to them only after a thorough study of yourself, theory and practice from an experienced master.