11 questions to a partner to determine sexual compatibility.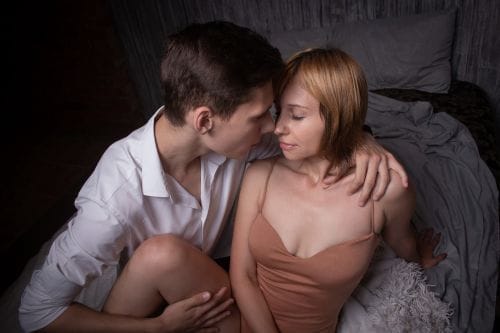 Sexual compatibility is not the only thing that matters in a relationship, but this is a really important point. Some people do not even understand the value of this parameter until they are faced with certain difficulties in intimate terms.
And it would be very good to have such an opportunity to somehow find out in advance how much you coincide in sex. We do not promise that the answers will be 100%true, but by asking these questions, you can at least assume whether it makes sense to continue the meeting and bring them to the "horizontal position".
What to do if it is inconvenient to ask questions directly?
There are several ways to build a conversation about sex and desires if you directly ask your partner awkward:
Through the letter. You can write a message in which share your erotic fantasies, and ask your partner in response to tell his desires.
Visually. Watch the moment from the film together in which the action takes place in such a way as you would like to.
Arrange sex testing. You can find on the Internet a suitable test on sexual topics, or try to come up with yourself, and invite your partner to go through it. Then look at what results you coincided with.
Do not forget that when asking such direct and frank questions, you can hear in response: "And you like it?..". Try to answer the same honestly, otherwise, if the partner caught on deception, it is unlikely that you will then want to talk about something openly about something. And, of course, do not condemn and do not laugh at the story so as not to destroy trust in you.
How often do you want to have sex?
At the very beginning of a relationship due to the influence of hormones and mutual passion, the couple can have sex very often. But then, when everything becomes more stable, it begins to find out that one partner needs 2-3 times a day, and another is enough and once a week. If we discuss the sexual needs of everyone in advance, if you wish, you can find other ways how to correct this mismatch.
What does sex mean to you?
Different people may have views on the fact that they consider intimacy intimacy. For some, these will be candles, long passionate caresses and hugs at the end, and someone is enough for 15 minutes for everything, and then you can continue to watch a movie. Both options are normal, but if you do not discuss these moments in advance, sex will bring only disappointment to partners, because their expectations did not match.
Which pose you like best?
Although most prefer diversity, each person has their own favorite pose, and she can tell you a lot about the partner. For example, about the reasons for the choice: the whole thing in the form that opens in this position, or in the sensations received? And also the preferred position will tell you whether it is or it is lovers of classics, or are they striving for a new.
You like to watch porn?
There is absolutely nothing bad to get involved in pornography. Some people really really like it, while others can just watch it sometimes when it becomes boring or a portion of inspiration needs it. But almost everyone views it at least occasionally. And most can answer without any problems – do they watch porn and how often.
How do you feel about sex toys?
As in the case of porn, men and women not only use sex toys, but also begin to openly talk about their experience with them. Anyone who likes to use intimate devices both alone and with a partner is more confident in their own sexuality, as well as ready for experiments.
And the one who does not like to use sex toys, even masturbating, does not yet feel self-confidence. Therefore, for some, a mismatch in this matter may affect the expediency of continuing relations.
You prefer to receive oral sex or give it?
Compliance with the correct balance between recovery and receiving is important not only in relationships. This practical rule also works for sex. Nevertheless, a person who understands this will also enthusiastically give oral affection, as well as receive them. It is worth avoiding relationships with those who not only openly say that they do not reciprocate, but also does not see something bad in this. It is better to spend time in search of than end up in bed with a sexy egoist.
What the strangest thing you have ever tried in sex?
You are not entirely sure of your partner and do not know what to expect from him? Want to get additional information about what he or she meant, speaking of a tendency to sexual adventures in the past? Ask the chosen one this question and see what the answer will be. What is the meaning of he puts into such words as "oddity", "wildness" or "risk". For some, a perversion can mean real sexual orgies with all attributes, but for another it will be a simple blowjob.
Where do you like to have sex more?
Another important issue in the same style as the previous. You may be interested in: does a person like to have sex only in the bedroom, or he likes to try new places. Thus, you can find out the personal boundaries of the partner and the willingness to push them out, as well as how suitable for your requests and presentations.
What is your most unusual fantasy?
Everyone has sexual dreams that I would like to repeat in reality. But not all of them can be easily explained or implemented in life. This does not mean that it is necessary to support all the fantasies of the partner, but you do not need to condemn them. You can try to find a compromise option that will suit both.
What role in sex do you like best?
You can conditionally distinguish 3 behavioral roles – active, passive and universal. In ordinary life, a person (and no matter what gender he is) can behave quite imperiously, keep everything under control, be decisive. But, having sex, he is ready to obey another, to be weak and controlled.
When you like sex more – in the morning or evening?
Everyone has different biological rhythms. Someone loves to sleep longer and pester him in the morning with the proposal of "Far from the bodies" is not a very good idea. Another person will voluntarily react to evening sex. Such moments are also better to find out in advance and try to agree on the time when both will be full of strength and energy for proximity.