Spark sperm during a blowjob? – that is the question!!!.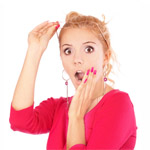 Many girls, especially not experienced, often wonder: "Do you swallow sperm during a blowjob or not?»When men are asked what they like more, most of them will say that when a girl swallows and does not spit. But when they say "swallow", this actually means that they want to ejaculate their partner in their mouths. What will it do later is the second question, although many men consider swallowing as a symbol of approval and love. But before making a decision, the girl should understand why a man so wishes this.
Knowing the blowjob technique, you made a lot of efforts to give a man a dizzying pleasure. If you extract his member from your warm and soft mouth at the very moment when your man is on the verge of surprisingly strong impulses of pleasure, you prematurely interrupt his sweet admiration for you, and instead of leaving your seed fluid, he will end in the air orIn the towel. Whatever your choice, most men prefer your mouth!).
But those women who hate cannot swallow her may not do this. You can just spit it after he finishes in his mouth. It is better to do this not with a weighty spit, but imperceptibly – in a towel, a shirt, a handkerchief or a sheet. Although some women are not enough to overcome unpleasant sensations, since they do not tolerate sperm taste, feed antipathy to her or experience a sense of humiliation that occurs in a woman when a man ends in her mouth and she has to swallow sperm.
And you know that sperm contains hormones of happiness? Read more in article 5 of facts about male sperm.
Girls who are categorically against giving advice: when you carefully caress a man, you must keep the process under control. As a rule, a man is already happy that you want to do a blowjob, so if you spit out his seed at the end, it's okay, it will greatly upset him. You probably need some experience in order to determine the moment of ejaculation in a man in order to "go into the shelter" in time))). In many men, before the ejaculation itself, the member trunk begins to pulsate, but for some men these pulsations are so insignificant that they can not be noticed.
A little experience and attention – and you can read the control signals of your partner. Well, if you do not succeed, ask the man to tell you about this just before the very moment of the "love explosion".
If you still claim the title of champion in the blowjob, but no way (well!) You can't come to terms with the fact that you will have to swallow sperm (frankly, I don't know a single woman who would like it immediately), then your choice is small: get used to this taste, learn to love it or study the reception "Convicor a glass".
"Khvykin's glass"
When, after long thoughts, the girl decided to swallow. The task now, as a rule, is that the man ends deep in his mouth, which will provide faster and lighter swallowing with the lack of taste sensations. Some women swallowing sperm like to feel the taste of a man's seed and spread it with a tongue all over her mouth or even kiss a partner, passing a part to his mouth ("Snow avalanche").
When using the reception of "overturning a glass" you hardly have not have to taste his seed. If you know how to take a member deep into your mouth, you can take it sperm directly on the back of your throat, t. e. literally "overturn the glass" without taking a single sip. The disadvantage of this technique is that before the ejaculation itself you should take a member as deep as possible, and not every woman likes this, and you cannot stimulate the head of the member with a throat and tongue, limiting the variety of your oral caresses.