How to choose Ben Wa Balls.

Ben Wa Balls is a great simulator for women, helping to maintain perfect health and get more pleasure in sex. Doctors recommend it, friends advise. But how to choose Ben Wa Balls? What to pay attention to?
There are a number of criteria that are important to consider when buying a female simulator. The efficiency of application depends on them. You need to understand the level of development of the muscles of the pelvic floor to choose an option that will give the best result.
Who needs Ben Wa Balls
Any woman can deal with balls. The simulator is relevant from 18 years old to old age. Just during everyday movements or physical training, the pelvic floor muscles are almost not involved. At the same time, much depends on their condition, because they support the organs inside. Their weakness leads To urinary incontinence, to reduce pleasure during proximity.
Depends on the state of the muscles, How will pregnancy and childbirth pass, How a woman will recover after she became a mother. AND How quickly a menopause will come in her life.
So who should buy Ben Wa Balls? Any woman who already leads sexual lifestyle and does not want to get old early. And exactly it is necessary for women after childbirth for quick recovery.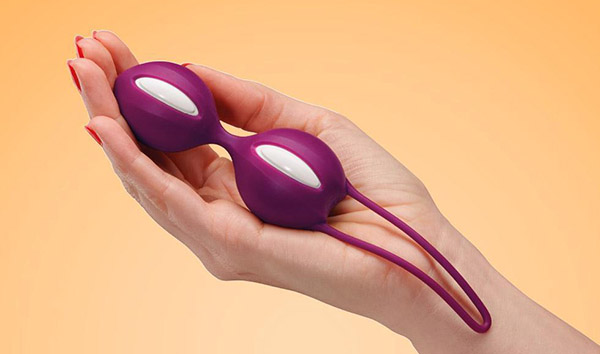 Types Ben Wa Balls
To choose the right women's simulator, it is important to understand the types of such devices. They differ at once by several criteria:
According to the material. The most common are covered with medical silicone. This is a safe material that has been serving for many years. Create plastic balls, this is the cheapest material, but not the best. And there are options made of metal or natural stone, these are heavy balls «For advanced». They are bought by those who have been training for many years and want maximum loads.
By form. Balls are made double and single, round and oblong. Options in the form of drops, spirals are often created. The form should visually like the classes to give aesthetic pleasure.
By «tail». The simulator is equipped with a special tip, for which balls are removed from the body. It can be in the form of a loop, flagella. The type of this part does not affect the results.
By weight. For beginners, create light balls from 10 to 30g. Then the load should be increased, select the option up to 60 g. Weight Limit — 100-150g. At the start, do not take something heavy.
To size. Measure the diameter of the ball. Wide options for those who have already given birth. Narrow — For those who are still planning to become a mother. The smaller the device, the more difficult it is to hold it in the body. Diameter 2.5-3 cm is ideal for beginners.
By the presence of special functions. Often they are supplied with vibration, remote control. This helps add pleasant sensations at the time of class. And balls with vibration can be used for masturbation. There are options with electrical stimulation, they are created for lovers of new sensations.
The choice of Ben Wa Balls is significant. First you should choose a high -quality, but inexpensive simulator. To understand — Can you do regularly. If you do not abandon the training for 2 months with such a model, you should choose another model with additional functions.
For the first purchase, it is important to understand the level of training. The weight and size of the balls that you need depends on it.