What is anal Christmas tree and which one to choose.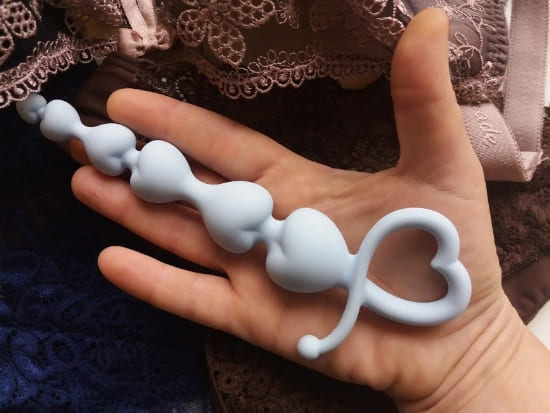 Anal Christmas tree is one of many types of stimulant for the anus. It can be used separately as a type of massage, simultaneously with vaginal penetration, or to prepare for anal sex. For different purposes, the models are with stiffness, length and number of links. What anal Christmas tree and when to use? How to use the stimulant for the first time? We will tell you all this in this article.
What is an anal Christmas tree
Anal Christmas tree consists of links tightly adjacent to each other.
The smallest ball is at the top, for easy penetration, and gradually their diameter increases to the base.
The number of links may vary, but by defending there are at least three of them. The diameter of the lower part usually does not exceed 3 cm.
Then there are already differences in the materials:
Hard anal Christmas tree. It is made of solid materials such as metal, glass and plastic.
In order not to injure the intestines, hard anal Christmas trees are quite short in length. In such a toy, each link will be well felt inside the body, and the massage will turn out to be quite intense.
Flexible anal Christmas tree. It is made of plastic materials: silicone, PVC, gel, latex, tpr.
There can be either short or long. Bends well, you can change the poses without taking out the toy.
Additionally, anal Christmas trees are often equipped with comfortable holders. Thanks to the handle, the stimulant is easy to move, scroll inside the body and remove.
And also there are models With vibration or myostimulation To enhance the massage effect.
First time
Beginners in anal stimulation should not purchase a hard anal Christmas tree.
While the anus is not developed properly, a stimulator of solid material can cause pain or even lead to microtrauma. The softer the material, the less discomfort when using.
An ideal option would be to purchase a set of Christmas trees of different sizes, for example, such, with two anal traffic jams of small PVC from DOC Johnson. On the basis of these sex toys there is a limiter who does not allow them to immerse them too deep.
Do not try to introduce the entire toy completely. Beginning with size s, First, one ball is immersed and removed so that the sphincter muscles are used to a foreign body. Then you can gradually push the following. The purpose of this procedure – make a narrow hole and get used to the sensation foreign object in the anus. After a small stimulant passes freely, the procedure with a larger toy is repeated.
Such daily practices for 10-15 minutes a day will help the muscles become more elastic and accustom to a feeling of fullness.
By the way, the lubricant must be used in such procedures. And do not replace it with petroleum jelly, baby cream or oils. It will be best to use anal lubricant. Its composition usually includes substances that soften the skin and cause an anesthetic effect.
Why is an anal Christmas tree used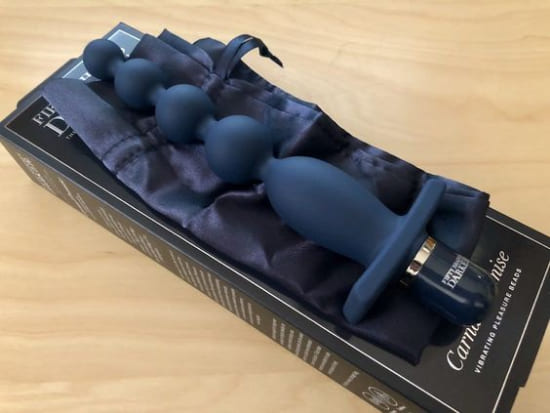 A stimulator in the form of a Christmas tree can be used by a woman and a man.
Anal toy add new sensations to the proximity, enhance orgasm and add interest. Everyone chooses the material of stiffness according to their own preferences and preparation, but there are still general recommendations:
Stimulation during vaginal sex.
If you introduce an anal Christmas tree into the anus during sex, then this will significantly increase excitement and increase the sensitivity of both partners. Not only a woman will feel every link, but a man during frictions will feel massage through the internal partition from the stimulant. It is best to choose an anal Christmas tree made of elastic materials.
For example, how this anal vibrator Fifty Shades Darker Carnal Promise From a medical silicone. Vibration will enhance the sensation and during the climax you can sharply pull out the stimulant, thereby strengthen the orgasm due to the massage effect. This action will not damage the intestinal wall, because the links of the Christmas trees are very elastic.
Prostate stimulation.
Prostate massage in a man serves as a good prevention of diseases of the genitourinary system, and also brings pleasure that differs from sensations during ordinary sex. The anal Christmas tree for this purpose does not have to be long, because the prostate is only 3-5 cm from the anal entrance. Stiffness must be chosen, based on the degree of preparation of the anus.
Prostate stimulation can be carried out by a partner, for example, anal Christmas tree Icicles Gold Edition G-Spot from glass, supplementing with other caresses.

If the man is a beginner in this form of massage, then it is better to first develop the entrance with softer sex toys, for example, such as Small Bubble plug.

Another option for stimulation of the prostate is during sex.
So that the hands are free, it will be more convenient to use an anal Christmas tree for wearing, for example Anal Fantasy Collection Ass Sweeper or Prettylove. During frictions, the stimulator will press on the prostate gland, massage.
For acute lovers, Mystim offers prostate stimulator Big Bend -it!. He has a flexible case that can be adjusted to individual anatomy, and the usual stimulation is supplemented by electrical impulses.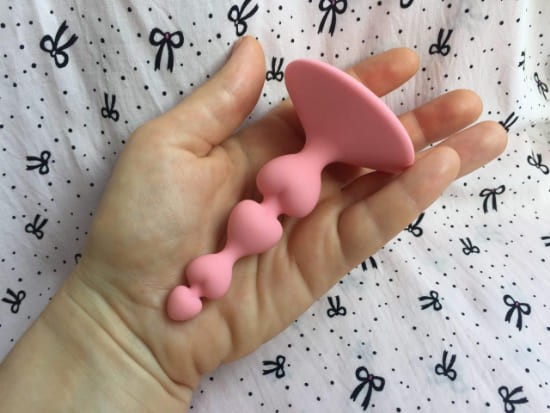 Preparation for anal sex.

Without proper preparation, anal sex can be very painful and even traumatic.
In order to prevent unpleasant sensations from overshadowing the pleasure of intimacy, the muscles of the anus need to be kneaded and carefully stretched out. Even those who regularly have such a type of sex need preparation, although it will be shorter than that of a beginner.

Anal Christmas tree for this purpose is best suited. Due to the fact that the upper link is small, it is easy to introduce the toy, gradually deepening the subsequent balls. The ribbed form performs internal massage, thereby relaxing the muscles.
Stretching can be carried out independently, a Christmas tree with a comfortable handle, for example, like Anal Angler Clear Blue. Or allow your partner to prepare himself, turning the process into an exciting prelude.

The Christmas tree can be used by any suitable stiffness, but it is desirable that it is equipped with a comfortable holder, for example, like that anal stimulant Or at Smile Bowler. Then the toy will be easy to scroll for a massage effect and remove.

Another option for preparing – a Christmas tree for wearing. Them on purpose make with a convenient limiter, which will not let the toy enter too deep even when moving.
U Platinum Premium Silicone-the Mini's Bubble Medium Quite a convenient base.
Anal Christmas trees made of materials such as TPR, gel, latex, plastic and PVC cannot be sterilized, so when using such a toy, two partners should use a condom or antibacterial cleaning agents For sex toys.
With anal stimulation, it is necessary to use special lubricants, but it must be borne in mind that with sex toys from some materials, for example, from silicone, latex, etc., you can use a lubricant only on a water-based so as not to spoil the product.